With apologies, I'm a week or so late on covering this -- I am still playing catch-up with all that's happened since I went on holiday.
About a month and some change ago, the Royal Bolton Hospital (Bolton NHS Foundation Trust) asked the Bolton News
to run a poll on its website
asking whether smoking shelters should be rebuilt on site at the hospital. I
wrote about that here
. The Bolton News unequivocally stated that "Trust bosses have promised they will abide by the result of the vote."
When the on-line poll was over, a small majority of 53% wanted the smoking shelters to rebuilt -- 1,522 people for and 1,327 against -- this doesn't include the postal ballots received. The total tally was 1,629 for rebuilding the shelters, and 1,580 truly hateful people against building them. It was a close vote, certainly. But a promise is a promise. Right?
So what are NHS Trust promises worth?
Absolutely nothing
, the Bolton News reports:
HOSPITAL bosses have made a dramatic U-turn — and will NOT build smoking shelters at the Royal Bolton.
And why has the Bolton NHS Foundation Trust broken its promise to the good people of Bolton? Because they hate you, smokers. They despise you. Oh, they'll never say that much, none of them will ever admit how much they despise you, so instead they'll say something about being obligated to protect you from yourselves. But really, for the Trust, it's all about standing "shoulder to shoulder" with evil. For instance, the article in the Bolton News said this:
It comes following weeks of pressure from council chiefs and outraged people over the hospital's decision to reinstate the shelters following a public vote.

Dr Bene said the reverse decision was made in order for the trust to "stand shoulder to shoulder" with public health — despite 1,629 people voting in favour of the shelters in a poll held last month.

[...]

"We have just undertaken the exercise but having reflected on that and heard a lot of views, we feel perhaps we need to look at this in a different way and stand shoulder to shoulder with our public health colleagues."
In other words, the Public Health crusaders demanded (perhaps even threatened, although there is no evidence of that) that the Trust break its promise to the fine, upstanding citizens of Bolton. And the Bolton NHS Foundation Trust capitulated to the demands of Public Health. Because in Bolton, it is plainly evident that smokers don't deserve to be treated like human beings, and that if you make a promise to smokers, you don't have to keep that promise, because smokers aren't worth your time or attention. In Bolton, smokers do not matter, all thanks to the Bolton NHS Foundation Trust's comrades in Public Health. Welcome, Bolton, to the New Inquisition.
If you live in Bolton, you might be tempted to contact your councillors. This would be an error, because your councillors hate you, too, smokers. The Bolton News article said (emphases added):
The decision [to not build the shelters] has been welcomed by Town Hall bosses.

Cllr Sufrana Bashir-Ismail, cabinet member for public health said: "We are grateful they have listened to concerns raised.

"As a council with responsibilities for promoting healthier lifestyles we were concerned the decision would send out the wrong message and felt the hospital could instead offer advice and support on stopping smoking."
Sufrana Bashir-Ismail (centre)
Source: Bolton News
She's not going to listen to you, smokers.
Well, councillor Sufrana Bashir-Ismail supports Public Health. She is no friend of any smoker in Bolton, that's for certain, and she cannot be trusted to support the will of the public, evidently.
Another Bolton councillor regrets that we live in a representative democracy, possibly. Meet "Conservative" Cllr Andy Morgan, who is disappointed that the public
was asked to vote
on the smoking shelters (emphases added):
Cllr Andy Morgan, who sits on Bolton Council's health scrutiny, said the shelters should never have gone to a public vote.

[...]

"We have all got a part to play in public health and the hospital is no different. This has been a complete and utter waste of every body's time and resources."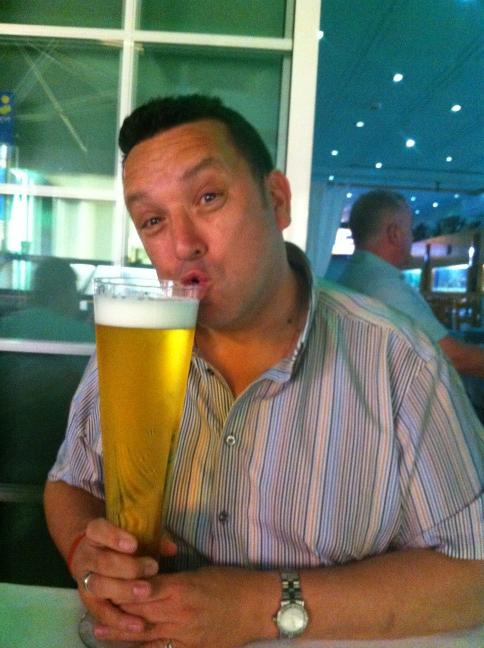 Bolton Councillor Andy Morgan
Source: Twitter
"We have all got a part to play in public health..." Andy says.
Jay says, Well, don't let 'em see that beer, Andy. I'm confident that's over the Public Health nutters' recommended daily limit.
Thanks, Andy, for looking out for Bolton's citizens. They're all so very lucky to have you. Your
Italian holiday pics look fab
, by the way.
Clearly, in Bolton, your councillors do not work for you, instead they choose to work for Public Health or perhaps for their own personal gain -- some, like Andy Morgan, don't even want to let you vote on issues that matter to you, or maybe that's just the issues that matters to smokers. Is there any real difference? I suppose public opinion is irrelevant in Bolton, thanks to the insidious nature of Public Health's denormalisation programme against smokers, and thanks to town hall bosses who support anti-smokers.
Well, I feel bad for Bolton's smokers, who don't deserve compassion, who don't deserve to be treated like human beings by those you voted for, or by those who are supposed to treat you when you are ill. You cannot trust your doctors, and you cannot trust your councillors, and you must never trust anybody who works for or supports Public Health. They all despise you and want you to shiver in the cold, wet weather, unsheltered from the elements.
There is no humanity left in Bolton. Evidently.